Final article – Dominika
I spent last year in Sokołowsko, where I was one of the volunteers of the In Situ Foundation. Sokołowsko is a small village, from where it is closer to the Czech border than to a larger town. You can walk to the border across the mountains in 15 minutes. The village is surrounded by mountains and small rivers that cross them. Many animals can be spotted in them – deers, mouflons and if you are not too lucky – even wolves.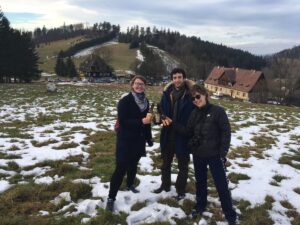 At the Foundation, I was Bożenna Biskupska's assistant and carried out all the work she commissioned. I learnt a lot of things during that year which will be useful in my normal work. I also had the opportunity to take part in all possible cultural events. During the holidays we had three big festivals, several exhibitions and meetings with amazing people – including Olga Tokarczuk.
I am glad that I took part in this voluntary service, I will miss Sokołowsko and the people I met there. I will definitely return there again, but unfortunately as a tourist.
Dominika, polish volunteer, In Situ Foundation in Sokołowsko