Aurelie in Sosnowiec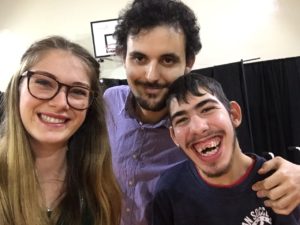 I am Aurelie, from France, I am 21 years old and I am volunteer (EVS) in Poland. Since September 2018, I bring my knowledge, my enthusiasm and my help to the members of 'Active Women Association', which works for the education of all. And also for a school with handicapped students/ Special School Complex no 4 in Sosnowiec/.
In the school where I did my volunteering work, I have my schedule that allows me to organize myself. My role was to help the teachers in the activities put in place. I often helped a student who had a lot of difficulties doing exercises. 
What I mainly remember from my mission is the love of people and the curiosity they have about me and France. For me working in a school with children with disabilities is not new, ans it allowed me to work with teachers. The school is really beautiful and everyone has a big heart. They use a lot of unusual therapies, for example with animals. They also have a large park open to the public, in which students work from time to time, they water the plants, collect garbage … From September to November, a snack bar run by the students is open. They make coffee and sell ice cream to the public. It's a great exercise to learn how to count!
Life in Poland is simple! Of course it took me a long time to adapt, especially since at first I didn't speak English or Polish, so it was difficult to express myself or even go shopping. Also, for me it was a sacred mission to take public transport. They are often very late, and the trams are very old. I notice that here, the inhabitants are very polite, for example, all young people immediately leave their places to older people. Refuse the offer is not an option!
What will I miss the most? These are my days at school as well as the other volunteers I'm going to leave. At school I immediately felt at home with the students and teachers. I lived a year with the other volunteers and we created special bounds by sharing our cultures. Now we consider ourselves as a big international family!
Aurelie
Aurelie & Guido about their time in Poland