Ana in Tychy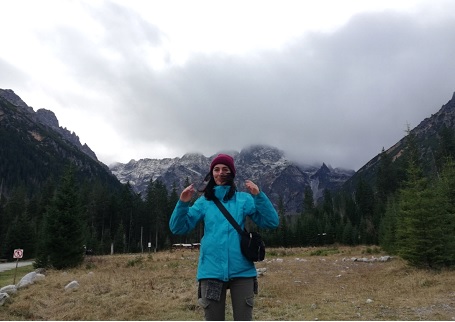 I remember how I wanted to pack things and started an adventure in somewhere new, but it never seemed like I had a time for this, until one day I decided to quit my job and found this project.
Project that changed my perspectives, project that let me met amazing and interesting people, let me found new friends and gave me memories that I'll always carry with me.
I was so excited and nervous at the same time when I first arrived here, I was constantly thinking how other volunteers will be, how the school is gonna be, if the kids will be happy because I am there.
To be honest, I didn't have high expectations, because you know it never works out the way you expect, but from the beginning it looked like that it's gonna be very good year.
I was working in the school that uses Democratic methods to teach, there is no specific timetable, this means that kids decide what they want to learn during the day. I was so welcome from the very beginning, I could feel the support from each teacher and parent. Some of the kids got used to me very fast and for some it took more time. I felt so lucky to be part of this community, just to be there and learn how they deal with different situations, how teachers talk with kids like equal and discussing hard topics with them.
Appearently kids are very good teachers because I learnt more polish from them than from my online course. I taught Georgian alphabet to some of them and they were very motivated to learn it, tried to write things and excitement was so mutual, for them to discover something new and for me to share my culture. Everyday in this school felt like developing more and more, starting with discussions about alternative education, ending with jam sessions. I hope a lot of people decide to give their children this kind of education.
On the other hand my hosting organization "AWA" (Active Women Association) was very helpful, with an amazing coordinator who was always ready to give a hand. In the new country where you don't know anyone in the beginning it was a great support, she became more like a friend to all of us who you can always rely on.
What can I say about other volunteers, I'll lack of the words to describe how special each of them are, how they made my life with full of joy here, how many ups and downs we went together, what an uforgettable memories we had. You can only wonder about these times, because some of them are too preciuos to share. I really hope everyone will allow themselves to have this kind of experience in their lives.
As sad and hard as it may be, it's time to say goodbye. It'll be very unusul not hearing Polish everyday, not seeing the kids with whom I got attached a lot, not going to "Biedronka" to cook a dinner with my flatmates after and just to live without being in a hurry. Feels like I'm going to real world, but at the same time my life was so real and full here. But despite this saddness I know I'm better vesrion of myself, I appreciate things more.
I'm going back with more experince, I'm more independent, I travelled in a lot of places alone and with friends, I swam in the cold lake, got drunk in Oktoberfest, attanded to the festivals and listened to my favorite bands in live.
This project gave me a lot of things, but I think nothing compares to the human relationships I got here. You know there's always good in the world and everything seems better if you're standing with the right people, because nothing really makes sense if you don't share things with others.
May we meet again.
Ana.